500 Native Americans have died in US boarding schools, report says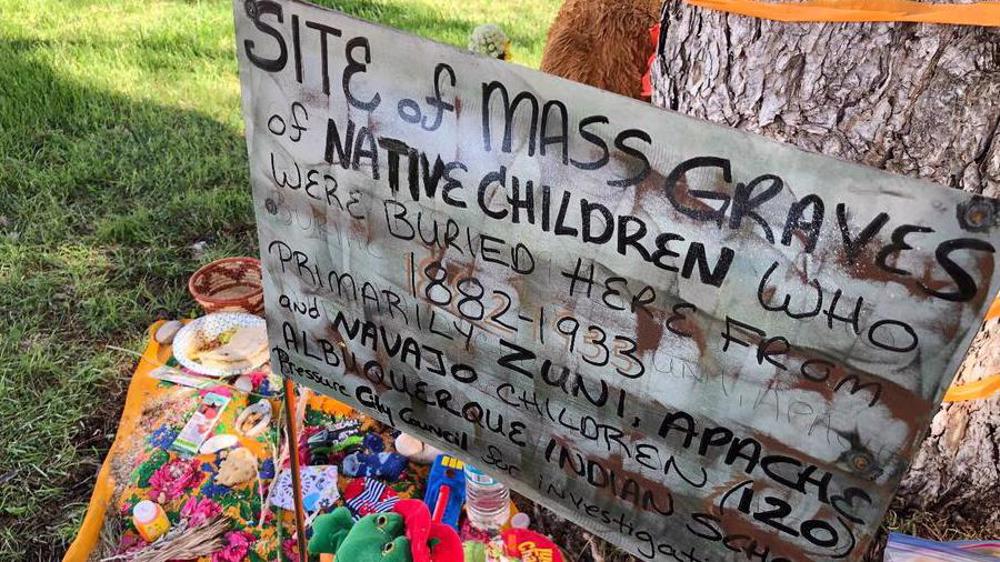 The United States has recorded more than 500 deaths at its boarding schools, which for more than a century sought to assimilate Native American children into white society.
A report released by the Home Office on Wednesday identified the deaths in the records of nearly 20 schools, where children were kicked out of their families, banned from speaking their language and often abused.
"Many of these children were buried in unmarked or poorly maintained burial grounds, far from their Indian tribes, Alaska Native villages, native Hawaiian community and families, often in the hundreds or even thousands miles," the report said.
The department found at least 53 burial sites in or near boarding schools, both marked and unmarked.
The number of known deaths, caused by disease, accidental injury and abuse, could be in the thousands or even tens of thousands, the department said.
The report expands to over 400 the number of schools that were established or supported by the US government beginning in the early 19th century and continuing in some cases until the late 1960s.
"Each of these children is a missing family member, a person who has not been able to live out their purpose on this Earth because they have lost their lives in this terrible system," the secretary said. 'Inside Deb Haaland, whose paternal grandparents were sent to boarding school for several years.
Speaking at a press conference on Wednesday, Haaland described how the era of boarding schools has perpetuated poverty, mental health disorders, addictions and premature deaths in Indigenous communities.
"Recognizing the impacts of the federal residential school system cannot simply be a historical calculation," she said. "We also need to chart a course to deal with these legacy issues."
"The consequences of federal policies on Indian boarding schools – including the intergenerational trauma caused by family separation and cultural eradication inflicted on generations of children as young as 4 years old – are heartbreaking and undeniable," Haaland said.
The Department of the Interior said a second volume of the report will cover burial sites, the federal government's financial investment in schools, and the impacts of schools on Indigenous communities.
The new report follows the discovery of hundreds of unmarked graves at former residential school sites across Canada that have brought back painful memories for Indigenous communities.
In May 2021, an Indigenous community unmarked a mass grave containing the remains of 215 children at the Kamloops Indian Residential School in British Columbia.
Canada forced more than 150,000 Indigenous children to attend these government-funded compulsory boarding schools as part of a policy to assimilate Indigenous children and destroy Indigenous cultures and languages.
The children, who were stripped of their languages ​​and culture, were also victims of abuse, rape and malnutrition. It is believed that thousands of people died while attending these schools.