Native Americans feel neglected in voting rights push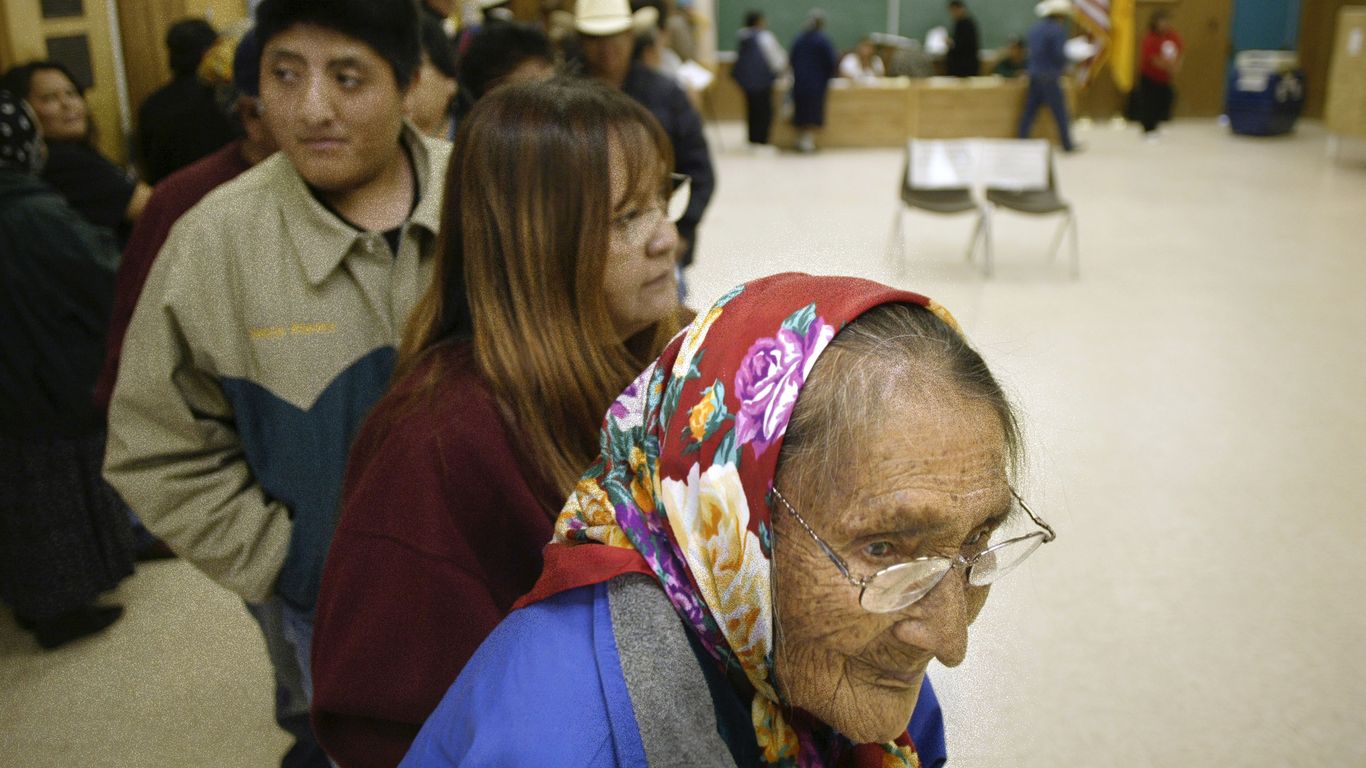 Native American voters face increased discrimination at the ballot box like Black Americans and Latino voters, but they are often left out of the conversation about electoral reform despite their ability to swing crucial races.
Why is this important: The franchise is quickly becoming a litmus test for Democratic candidates to succeed nationally, and a top priority for the Biden administration. Some Democrats are seeking to craft specific legislation to help preserve access for Indigenous voters.
The targeted approach comes amid efforts to push through comprehensive electoral reform in Congress.
Driving the news: Sen. Ben Ray Luján (DN.M.) has been working on a bill that would ensure Native Americans, Alaska Natives and voters living on tribal lands can easily register and vote.
Details: If enacted, the NAVRA would allow tribes to specify the number and locations of requested voter registration sites, drop boxes, and polling places on tribal lands, and would allow tribal ID cards to be voting purposes.
It would also help establish state-level Native American Voting Task Forces by authorizing $10 million for the Native American Voting Rights Task Force grant program.
What they say : "We know the disenfranchisement of black and brown voters at the polls is more widely known — it's being talked about, it's debated across America," Lujan told Axios in an interview.
"What hadn't happened was the inclusion of Native Americans and the challenges that we see across the country that Native American voters face every day."
By the numbers: More than one million Native American and Alaska Native voters are not registered to vote.
34% of Native Americans are unregistered — compared to 26.5% of white Americans, according to data from the National Congress of American Indians.
Voter turnout for American Indians and Alaska Natives is among the lowest of any ethnic group in the country, according to available data.
Native American voter turnout is up to 10 percentage points lower than other racial and ethnic groups.
Do not forget : Native Americans have been credited with helping Democrats win tight races in recent years.
Joe Biden won Arizona in 2020 by 0.3%, after Navajo voters headed to the polls in record numbers.
The senses. Jon Tester (D-Mont.) and Lisa Murkowski (R-Alaska) credited Native American voters with helping them win in their tight reelection efforts.
The backdrop: A number of states with GOP-controlled legislatures have recently passed bills that critics say impose new restrictions on native voters.
Some GOP proposals seek to impose new address requirements despite the fact that many Native Americans do not have addresses.
Only about 18% of Native American voters in Arizona, outside of the state's two largest counties, have traditional addresses, Patty Ferguson-Bohnee, director of the Arizona State Indian Legal Clinic, told Axios.